SUSPENDING PLAY
Players have a duty of care not to behave in such a way that others may be injured by their actions.They also have a duty to take care not to injure themselves.It is now necessary for the Club to have set guidelines to follow in the event of adverse weather which may make the course unplayable or even compromise player safety.

The decision to suspend or cancel a competition rests with the Captain of the appropriate section (Mens/Ladies Seniors), the Junior Liaison Officer (Juniors) and the Club Secretary for Open Competitions.
THUNDERSTORMS AND LIGHTENING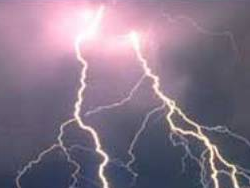 If there is a risk of thunder and lightning play MUST be discontinued immediately. Players MUST proceed in accordance with Rule 6-8 of the Rules of Golf whether or not the Klaxon is sounded.

Play is automatically discontinued on the sound of ONE PROLONGED BLAST of the klaxon and a player MAY NOT override the Committee's decision in this respect.

In competitions, play will be RESUMED on the sound of TWO SHORT BLASTS of the klaxon.

THREE PROLONGED BLASTS signifies the competition is ABANDONED.
FOG & ICE
If conditions are foggy and you are unable to see where the ball is likely to land or ground conditions are such that it is impossible to judge how far the ball is likely to travel, DO NOT PLAY.