Professional Shop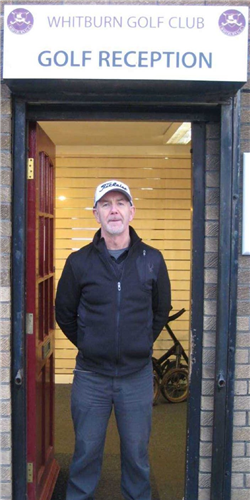 Tel: 44(0)191 5294210 - Option 3
Email: wgcprofessional@hotmail.com

The Professional Shop is run by our resident Head Professional Stephen McNally. Stephen's relaxed and warm personality provides members and guests an enjoyable visit to Whitburn Golf Club.
.
Stephen's ideas are to develop, deliver and increase participation in golf and he will continue to promote and progress his ideas at Whitburn.

Stephen will provide beginners, juniors and elite coaching packages to suit all player's needs including - Individual Coaching, 'Get In To Golf', Junior Academy

The Pro-Shop will be stocked with quality golf brands at a discounted rate to make sure members and visitors get the best deals around.

If you require anything regarding golf then please don't hesitate to give Stephen a visit.
Coaching
To Contact Stephen call: 44(0)191 5294210 Option 3 or Mobile: 07879670038 or Email: digitalcoaching@aol.com

Stephen has a wealth of experience when it comes to coaching. Working with beginners to aspiring Tour Players, he has over 40 year's knowledge from deep within the game.During his time, he has developed a unique style of coaching that is designed on getting effective results. He takes a different approach than most coaches out there to show you how to focus on the most important improvements you can make to get the most out of your game.You have a lot of choice when considering who to consult, what to read or view and Stephen knows he has to earn your trust. There is a lot more about him, so if you are curious, you are invited to give Stephen a try. After all. he has worked with the best in the game, consulted with the best and traveled the world to seek the best information. Now he is here at Whitburn Golf Club and is sharing his knowledge with the members and visitors to help them flourish their game.

Coaching Fees for 2020: 1 Hour Session £40 - 30 Minute Session £30

Members Special Offer: 1 Hour Session £36 - 30 Minute Session £27

5 x 1 Hour Sessions £149 - 5 x 30 Minute Sessions £99

Look out for new programs coming soon in 2020
"I'll teach you to be your best"
Get into Golf
Whether you are a beginner or looking to brush up on your golfing skills, I provide comprehensive group coaching for all levels delivered in a fun, instructive environment. Programmes include my famous 'Learn Golf In A Day', Ladies Golf and also 5 week programmes to cater for all your needs. To enrol onto a course then use this link - https://www.getintogolf.org/ and search for Whitburn Golf Course and select date or book through Whitburn Pro-Shop.>>>>£20-£25 per person
All coaching programmes include balls and equipment and offer discounted memberships at Whitburn Golf Course for participants.
Whitburn Golf Club Society Costs
Whitburn Golf Club Society Booking Form